GMA News TV launches the inaugural edition of "CINE TOTOO: Philippine International Documentary Film Festival" in theaters this September 24 to 30. Audiences will be treated to an impressive line-up of documentaries, produced by 11 independent filmmakers from all over the country.
Carla Ocampo's documentary "Walang Rape sa Bontok" tackles thestory of two Filipinas who were both victims of sexual abuse as they search for a utopia where women can live without being sexually violated.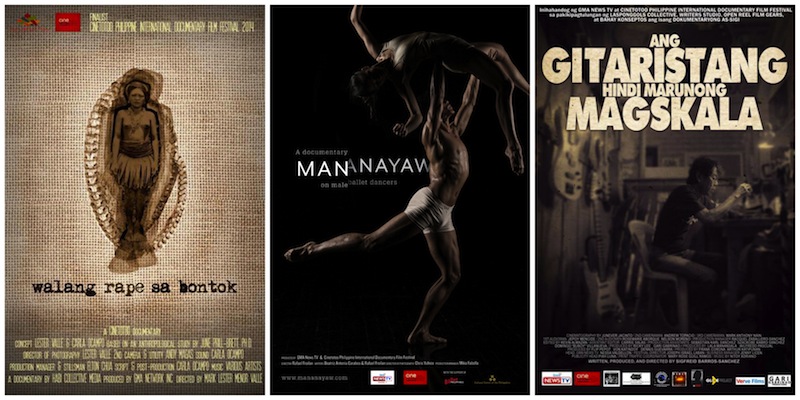 Rafael Froilan's "Mananayaw" documents the remarkable perseverance and passion of this generation of Filipino male ballet dancers as they take the center stage.
In "Gitaristang Hindi Marunong Mag-skala," Sigfried Barros-Sanchez tells the story of Nitoy Adriano–former lead guitarist of The Jerks and probably one of the most underrated yet talented lead guitarists in the
Philippines
.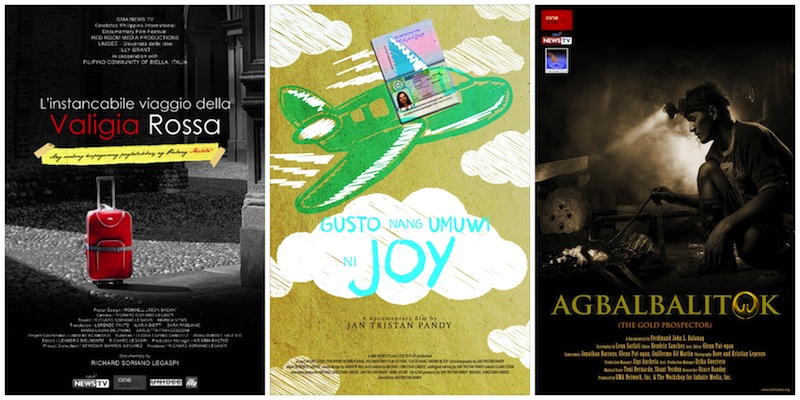 Richard Legaspi's "Ang Walang Kapagurang Paglalakbay ng Pulang Maleta" is an experimental documentary that showcases the remarkable stories of inspiration in a close-knit Filipino community in the town of Biella, Italy.
In "Gusto Nang Umuwi ni Joy," Jan Tristan Pandy presents an intimate look into the life of an undocumented Filipina in the UK as she tries to secure legal status so she can finally return home to visit her family.
Ferdinand Balanag's "Agbalbalitok" tells the harrowing tale of ordinary Filipinos working in a perilous, rundown small scale gold mine in Benguet.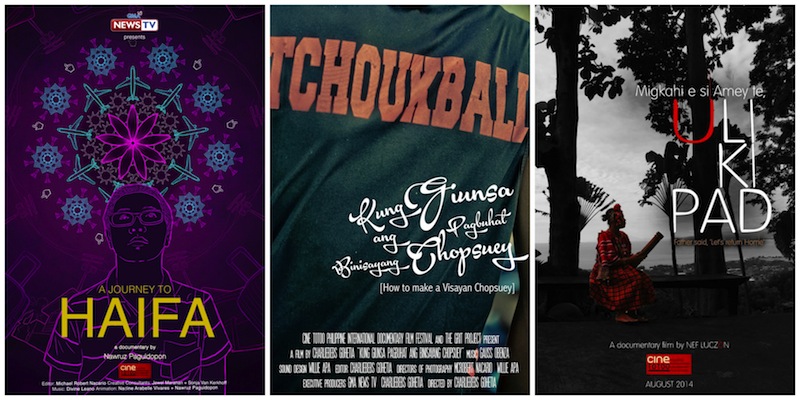 "A Journey to Haifa" is a personal documentary that follows openly gay filmmaker Nawruz Paguidopon as he joins his family on a journey to Haifa, Israel for a conservative religious pilgrimage.
Charliebebs Gohetia's "Kung Giunsa Pagbuhat ang Bisayang Chopsuey" follows the struggles of a team of Tchoukball players in Davao City as they prepare for a tournament abroad.
Nef Luczon's "Migkahi E Si Amey Te, 'Uli Ki Pad'" shows how a tribal community in Bukidnon addresses the issue of succession after the death of their chieftain.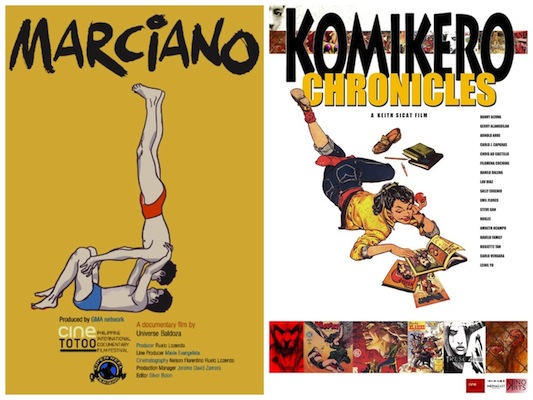 In "Marciano", Ivy Universe Baldoza builds a compelling portrait of a gay OFW who lived in Paris for 25 years and died there alone. The narrative is built around found stories of relatives, acquaintances and even strangers – and everything that happened in Marciano's life is soon forged together by collective memory.
Keith Sicat's "Komikero Chronicles" charts the evolution of the art of Filipino komiks, and showcases how this art form that was once belittled and taken for granted has given Filipinos of all ages a legacy they can be proud of.
"We are excited to share the films of this talented batch of filmmakers. They each offer a unique and interesting insight into the contemporary Filipino experience," says CINE TOTOO Festival Director Joseph Israel Laban.
The 11 documentaries will be screened in competition from September 24 – September 30 in
SM Megamall, SM Manila, and Trinoma Cinemas
. See
screening
schedule below.
CINE TOTOO SCREENING SCHEDULES
1. "Agbalbalitok" (The Gold Prospector) ni Ferdinand Balanag
Trinoma – Sept. 25 (Thurs) 6:30PM
SM City Manila – Sept. 27 (Sat) 6:30PM
SM Megamall – Sept. 28 (Sun) 8:45PM
2. "A Journey to Haifa" ni Nawruz Paguidopon
Trinoma – Sept. 24 (Wed) 9:15PM
SM City Manila – Sept. 26 (Fri) 8:45PM
SM Megamall – Sept. 28 (Sun) 6:30PM
3. "Ang Gitaristang Hindi Marunong Magskala" ni Sigfreid Barros-Sanchez
SM City Manila – Sept. 25 (Thurs) 6:30PM
SM Megamall – Sept. 26 (Fri) 6:30PM
Trinoma – Sept. 28 (Sun) 8:45PM
4. "Ang Walang Kapagurang Paglalakbay ng Pulang Maleta" ni Richard Legaspi
SM Megamall – Sept. 25 (Thurs) 6:30PM
Trinoma – Sept. 27 (Sat) 6:30PM
SM City Manila – Sept. 28 (Sun) 8:45PM
5. "Gusto Nang Umuwi ni Joy" ni Jan Tristan Pandy
SM City Manila – Sept. 24 (Wed) 6:30PM
Trinoma – Sept. 26 (Fri) 8:45PM
SM Megamall – Sept. 29 (Mon) 6:30PM
6. "Kung Giunsa Pagbuhat ang Binisayang Chopsuey" (How to Make a Visayan Chopsuey) ni Charliebebs Gohetia
SM City Manila – Sept. 24 (Wed) 8:45PM
SM Megamall – Sept. 27 (Sat) 6:30PM
Trinoma – Sept. 29 (Mon) 6:30PM
7. "Komikero Chronicles" ni Keith Sicat
Trinoma – Sept.25 (Thurs) 8:45PM
SM Megamall – Sept. 27 (Sat) 8:45PM
SM City Manila – Sept. 28 (Sun) 6:30PM
8. "Mananayaw" ni Rafael Froilan
SM Megamall – Sept. 24 (Wed) 6:30PM
SM City Manila – Sept. 25 (Thurs) 8:45PM
Trinoma – Sept. 26 (Fri) 6:30PM
9. "Marciano" ni Ivy Rose Universe Baldoza
SM Megamall – Sept. 25 (Thurs) 8:45PM
SM City Manila – Sept. 26 (Fri) 6:30PM
Trinoma – Sept. 28 (Sun) 6:30PM
10. "Migkahi e si Amey te, Uli ki pad" (Father Said, 'Let's Return Home') ni Nef Luczon
SM Megamall – Sept. 24 (Wed) 8:45PM
Trinoma – Sept. 27 (Sat) 8:45PM
SM City Manila – Sept. 29 (Mon) 6:30PM
11. "Walang Rape sa Bontok" ni Carla Samantha Ocampo
Trinoma – Sept. 24 (Wed) 6:30PM
SM Megamall – Sept. 26 (Fri) 8:45PM
SM City Manila – Sept. 27 (Sat) 8:45PM
~ Words from gmanetwork.com